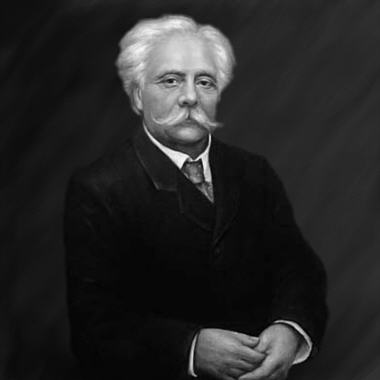 Fauré's requiem op.48 is a highly popular sacred choral work. Composed shortly after the death of Fauré's parents, it is brilliant, soothing work which exists in two versions : the 1893 « chamber » version and a second « symphonic » version written for the concert halls, probably orchestrated by Roger-Ducasse.

The degree of Gabriel Fauré's religious faith is subject to some debate. Depite this, the French composer at the tender age of 19 had already completed the Cantique de Jean Racine, a study exercise at the Niedermeyer School which went on to become a immensely popular work of the sacred choral repertory.

By virtue of his functions within the Madeleine parish of Paris between 1877 and 1905 (choirmaster then organist), he has the opportunity to accompany services and direct choirs. During this time he set about composing a requiem which took several years to complete (1888-1900). Despite the fact that Fauré lost both his father (1885) and his mother (1887) during this period, it does not appear that the requiem was composed with this in mind. Fauré later wrote : « My Requiem was composed for no particular purpose... other than for pleasure, if I may say so ! ». He also provided insight into the spirit of the work : « It has been said of my Requiem that it does not express terror when faced with death. Someone called it more of a berceuse, but this is how I feel about death, a joyful relief rather than a painful transition ».

It is a soothing, radiant work different to most requiems in that it has no Dies irae but does incorporate an In paradisum, traditionally sung at the end of a funeral service. Fauré wrote his requiem for a choir (comprising only male voices, both children and adults) and orchestra. The orchestra specifically did not include any violins (other than the violin solo of the Sanctus) or woodwinds. The initial draft of the work was first performed on January 16, 1888 at the Madeleine church during a memorial service for an architect who had died the previous year. Louis Aubert, later to become himself a composer, was one of the first to sing the Pie Jesu. Nowadays, this role is usually attributed to a female voice.

Research undertaken in the late 1970's by musicologists Jean-Michel Nectoux and Roger Delage has shown that there are in fact two distinct versions of the Requiem : an 1893 « chamber » version and a 1901 « symphonic » version written for concert halls, probably orchestrated by one of Fauré's students, no doubt Roger-Ducasse.

Two separate approaches therefore coexist, despite the fact that the intimist « streamlined » version, which we tend to prefer, was only really exhumed in the late 1980's. Gustav Bret in the 1930's was the first of a long line of French-speaking conductors to have recorded Gabriel Fauré's Requiem op.48. As with many other oratorio works, recordings of Fauré's Requiem often suffer from excessively slow tempos, problematic choral intonations and choice of soloists, or artistic options which are inappropriate for this type of work. We tend to recommend versions by choir-masters who also have experience in conducting orchestras rather than the visions of conductors mainly of symphonic or operatic repertory.

Philippe Herreweghe's 1988 recording of the 1893 version (Harmonia Mundi), using a mixed choir of children's and adult voices, small ensemble and two soloists including Peter Kooy, is particularly inspired. He also recorded in 2001 the 1901 version with the Orchestre des Champs-Elysées on « period » instruments, where the singers adopt Gallican pronunciation of the latin text.

The symphonic version is more widely available on disc, and several great names have made recordings well worth listening to : Jean Fournet in 1975 (Philips), with an excellent Dutch choir and outstanding soloists : Elly Ameling and Bernard Kruysen. Michel Corboz, who is also a specialist of this repertory, has recorded the work on several occasions : we suggest listening to his 1992 version for Aria/Fnac Music reissued on Virgin Classics.

Fans of great singers should look for certain recordings, such as Dietrich Fischer-Dieskau in the baritone solo parts (with André Cluytens, and later Daniel Barenboim), but also the golden voices of Kathleen Battle (with Carlo-Maria Giulini) or Barbara Bonney (with Seiji Ozawa), on a more latin latin note Cecilia Bartoli (with Myung-Whun Chung) or, more surprisingly, that of Philippe Jaroussky (with Paavo Järvi) in the Pie Jesu.

A curiosity piece, we also suggest listening to the beautiful piano transcription made by Emile Naoumoff, recorded on the Saphir Productions label and which has been reissued by Sony.